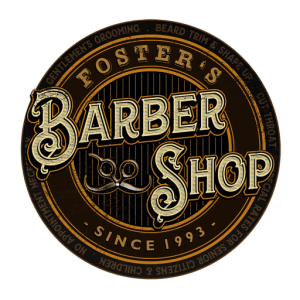 keeping Peterborough handsome since 1993
Darren Foster started in the industry in 1985 and after he worked and trained under a former Men's British hairdressing team member, it was inevitable he would open a Barber shop, which he did with Foster's in 1993.

Darren has built a team of four friendly ,long serving, qualified Barbers with 70 years combined experience ,enabling Fosters barber shop to deliver the latest on-point styles, from skin fades and beard shaping to new born trims and traditional senior citizens cuts. All in a comfortable , air conditioned environment with TV's , latest magazines and an Xbox to keep you occupied if you have to wait. With ample free parking, Foster's is only 5 minutes from Hampton.
Fosters only use quality , top end products and are proud to be local stockists of the world famous brand Reuzel and the leaders in men's retail products ,American Crew. From gels and pomade's to beard balms and aftershaves, Fosters has everything you'll need to compliment their creative work and keep your style looking great. Darren says "I'm privileged to have seen 3 generations of families come through our Barber shop and i feel proud that my teams standards remain as high as always to deserve the years of customer loyalty.
We would like to thank all our customers for their support and look forward to welcoming all new customers as we start the plans for our new re-fit ready to celebrate 25 years of trading. Making Fosters Barbershop even better and the place to go for your next haircut.
Follow us on Instagram and Facebook and check our real reviews by real customers.